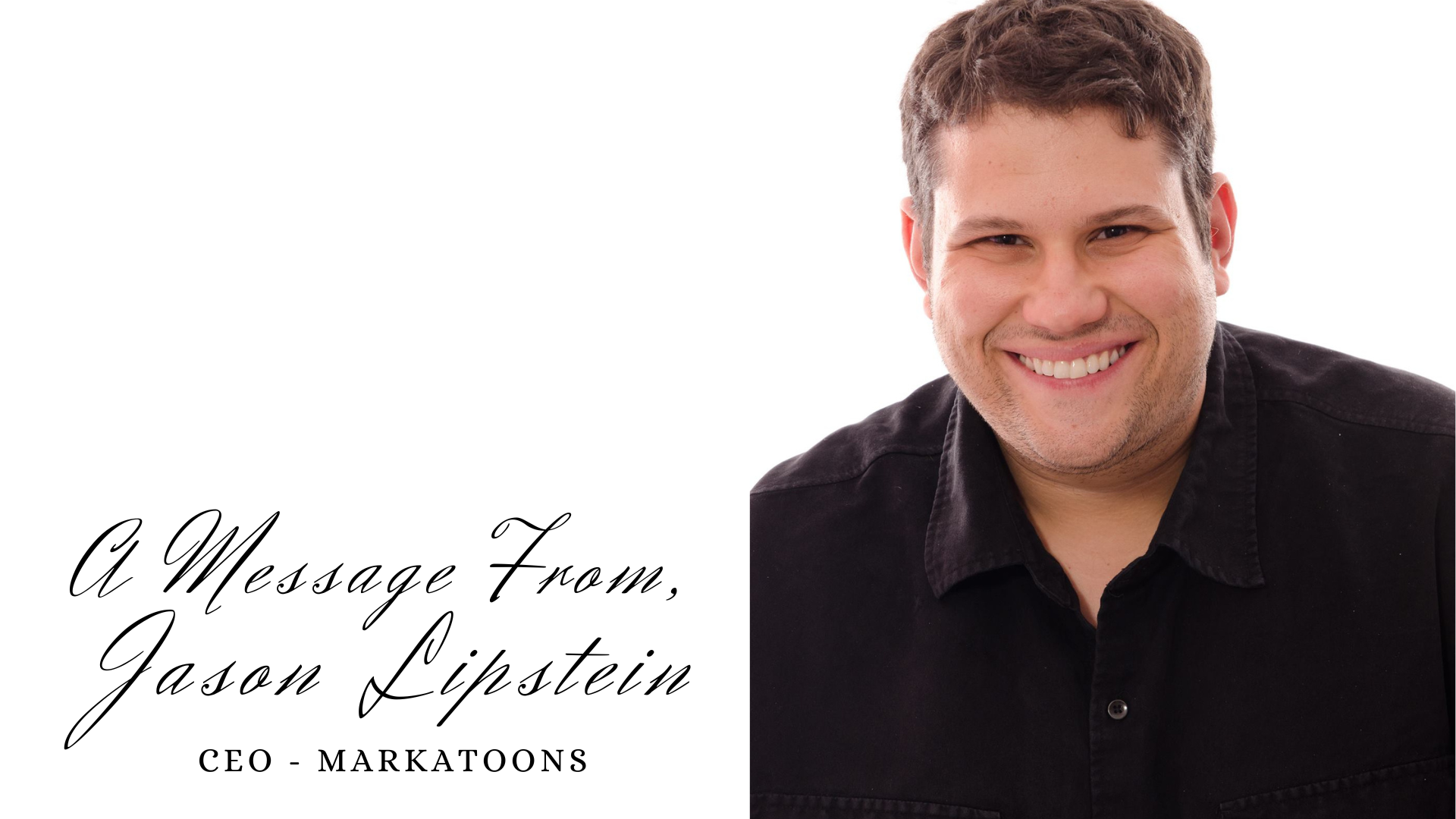 Hey there, I'm Jason Lipstein, the CEO of Markatoons. In today's fast-paced digital world, having a strong online presence is crucial for businesses to effectively reach their target audience. That's why I'm thrilled to offer a wide range of digital media services through Markatoons. Whether you're in need of marketing and personalized business consulting, social media marketing, SEO, digital design, video creation, web design, eCommerce solutions, lead generation, content writing, or funnel building, I'm here to provide you with a comprehensive solution that meets all your digital media needs.
Marketing and Personalized Business Consulting:
At Markatoons, I get that every business is unique. That's why I offer personalized business consulting services tailored specifically to your goals and challenges. Together, we'll analyze your business, spot growth opportunities, and create customized marketing strategies to maximize your online presence and boost your brand visibility. With my guidance and expertise, we can navigate the ever-changing marketing landscape and find tactics that align perfectly with your business objectives, driving real results.
Social Media Marketing:
Connecting with your audience and building a loyal customer base is a game-changer, and that's where I thrive. At Markatoons, I'll help you craft a strong social media presence that stands out and engages your target market effectively. From creating compelling content and managing your online community to partnering with influencers, running paid ads, and keeping an eye on analytics, I'll make sure your brand shines in the dynamic world of social media. Let's leverage the latest trends and platforms together, fostering meaningful connections and driving valuable engagement with your audience.
Search Engine Optimization (SEO):
Boosting your website's visibility and organic traffic is a key ingredient in online success. With my comprehensive SEO solutions, I'll optimize your website's structure, content, and performance. By conducting thorough keyword research, fine-tuning meta tags, enhancing site speed, and implementing strategic link-building strategies, we can attract high-quality leads and achieve long-term growth. Let's climb the search engine ranks together, driving valuable organic traffic to your business and making sure you get the attention you deserve.
Digital Design:
Making a lasting impression on your audience is a must in today's digital age. That's why I personally oversee the digital design services at Markatoons. Whether you need a fresh logo, compelling branding materials, or eye-catching graphics for your website and social media platforms, I'll create designs that truly captivate your audience. From concept development to final execution, I'll work closely with you to bring your brand's vision to life, ensuring a cohesive visual identity that resonates with your target audience.
Video Creation and Animated Explainer Videos:
Using video content to tell your story and convey complex information is a game-changer. That's where my expertise in video creation comes in. At Markatoons, I specialize in crafting animated explainer videos, promotional videos, product demonstrations, and more. From scriptwriting to post-production, I'll ensure that your videos leave a lasting impact on your audience, captivating and inspiring them to take action. By incorporating compelling visuals, engaging narratives, and strategic calls-to-action, we'll effectively communicate your brand message and leave a lasting impression on your viewers.
Web Design, eCommerce, Mobile, and Web Apps:
A visually appealing and user-friendly website is a must-have for attracting and retaining customers. At Markatoons, I focus on creating websites that impress and perform. From responsive layouts to seamless navigation, I'll ensure your website delivers an exceptional user experience. And if you're looking to sell your products or services online, my eCommerce solutions have got you covered. By integrating secure payment gateways, user-friendly interfaces, and robust inventory management systems, we'll create an engaging online store that drives conversions and boosts your sales. Additionally, I can develop mobile and web apps that enhance user experience and streamline your business operations. Whether you need a mobile app to connect with your customers on the go or a web app to automate internal processes, I'll deliver a tailored solution that fits your specific needs.
Lead Generation:
Generating high-quality leads is the lifeblood of business growth. With my lead generation strategies, we'll combine data-driven insights with targeted marketing campaigns to attract and nurture potential customers. By identifying your target audience, crafting persuasive messaging, and implementing lead nurturing techniques, we can maximize your conversion rates and help you reach your sales targets. With my expertise in various lead generation channels such as content marketing, email marketing, and paid advertising, we'll attract leads that are genuinely interested in your offerings and turn them into loyal customers.
Blog and Content Writing:
Informing, educating, and engaging your audience with valuable and relevant content is a powerful way to build your brand's authority. At Markatoons, I have a team of skilled content writers who specialize in crafting compelling blog posts, articles, website copy, and marketing materials that resonate with your target audience. By conducting thorough research and employing effective storytelling techniques, we'll establish your brand as a thought leader in your industry. With well-crafted content that offers valuable insights, we'll build trust with your audience and drive organic traffic to your website.
Funnel Building:
Streamlining your sales and marketing processes is essential for maximizing conversions. Through effective funnel building, we'll create optimized sales funnels that guide your prospects through the buyer's journey. By mapping out each stage of the funnel, identifying key touchpoints, and implementing automated email sequences and retargeting campaigns, we can convert leads into customers and maximize your revenue. I'll analyze your sales process, identify areas for improvement, and design a strategic funnel that optimizes conversion rates and enhances the customer experience.
Conclusion:
In today's digital world, a strong online presence is essential for business success. With Markatoons' comprehensive digital media services, you can elevate your business and achieve your goals. As the CEO of Markatoons, I am steadfast committed to delivering outstanding results and helping your brand stand out in the digital realm. From marketing and personalized business consulting to social media marketing, SEO, digital design, video creation, web design, eCommerce solutions, lead generation, content writing, and funnel building, I'm here to guide you through every step of your digital journey. Let's transform your business together and make your online presence shine. Contact me today, and let's make it happen!